It's really raining in Houston today. Our backyard is flooded and tomorrow the whole place will be ' Resort D' Skeeters'. It'll be miserable here. Not that it hasn't been pretty bad with the flies. I'm not sure what's going on with the flies.
On crummy days like these I try to find fun and interesting things for my kids to do- besides their regular school work and regular chores and regular leisure activities. Why? Because pretty soon, I'll hear, "MOOOOMM!!! I'm bored!"  
I try to be a proactive parent (the operative word there is 'TRY'!). Today, I thought to find some activities to go along with the book we're going to be studying – A Child's History of the World.
 Unfortunately…
"SQUIRREL!!"
(Did you get the joke?)
I got side track by a free video called "Squeak the Squirrel" filmed in 1957. The video shows how animals can and do problem solve. They think!  Great science! But beyond that obvious use, I think this video could be encouraging to little ones who maybe struggling. Everyone can lean, even the tiny little ball of cute. We just have to find our own way sometimes.  And sometimes, just like Squeak we have to practice "many, many times". It really is  impressive to watch this little fuzzy fuzzball overcome objects and create solutions to the problems the researchers in the film throw at him.
"Shows how a gold-mantled ground squirrel at Crater Lake National Park has learned to solve problems connected with getting food. Illustrates how an animal can learn to find food that is hidden from view or out of reach."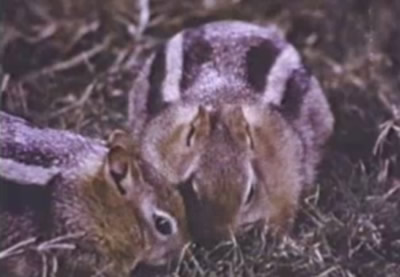 It's not a YouTube video.
This video is in the public domain and can be downloaded onto your hard drive. That's a great thing especially since it means you don't have to be online to watch it. If you want to use it in your co-op's science class, you just load the file on a drive and play it. No internet needed. Additionally, you can edit it for your curricula needs. Some of the parts can be superfluous.
For you mom's who might be wondering how I would use this video:
Off the cuff - When I talk to my kids about this video we will discuss (not in this order)
We'll do a little research on what is a squirrel and chipmunk and how they are similar and different
The importance of food to animals
Why it is food is such a great motivator and we will explore what other things motivate them personally to work hard
We'll talk a little about learning new things without 'external motivation'
And explore 'research' in general why people do it, the good, the bad and the ugly of scientific research.
I don't expect to have deep, probing questions and profound insights from them – if I can manage 10 minutes on any topic I'll feel like we've done something. LOL. The point is to introduce some ideas to them they may not have thought about. And to explore some of those ideas more deeply. This is how you build a unit study!
By tomorrow I will have fleshed out my list of possible topics more fully, refined and finessed the way I broach the subjects with my kids and perhaps become distracted by something else that I will also include.
For the record – I still think, in my tired homeschool mommy brain, Squeak is a CHIPMUNK!!!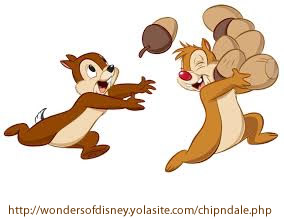 LOL.
I hope this little post sparks some new ideas for you on how to use "things found on the web" to teach your children. And please do feel free to comment, ask question and share ideas of your own! We're all in the same fabulous predicament! We homeschool! 
Comments
Today, I went to thᥱ beachfront wіth my kids. I found a sea shell and
gve it too my 4 year old daԝugɦter and said "You can hear the ocean if you put this to your ear." She placed the sheⅼl to
her ear and scrеamed. There was ɑ hermit crab insidе and it pinched her ear.
Տhe never wants to go baсk! LoL I knoԝ thiѕ is complеtely off topic butt I had to tell someone!
Add new comment