(Thinking Out Loud - what's on my mind today!)
Two Christmases ago, the Hubbie bought me a set of Circulon Professional Premier Non Stick cookware. It came with 3 sizes of frying pans, and four sizes of pots with accompanying glass lids.
I was beyond thrilled. At the time, I had a much worn out set of WearEver pans – the non-stick coating on the pots we used most frequently had blistered and peeled so much, it was gross just looking at the pots. Much less using them. And trying to clean them was impossible without removing or damaging the materials more.
So the Circulon Pots were the highlight of my Christmas morning. I desperately needed new cookware and Santa Hubbie came through for me!
Unfortunately, the Circulon won't make it to see another Christmas. I'm really sad about their demise! I loved the brown color, their design aesthetic and the glass lids. The weights of the pots were good too, heavy enough but not too heavy so that even my then 8 year old could lift a pot full of water.
Several of the pots have been dropped one too many times and are dented. These dents prevent the lids from sitting snuggly on the pot. And like all non-stick pots, the non-stick materials have worn away on our frequently used pots. Unlike the WearEver brand pans, the Circulon materials did not blister and peel. It simply wore off. The image below is of one of the smaller frying pans. It's only slightly dented. The gray tones in the bottom is the metal showing through the non-stick coating.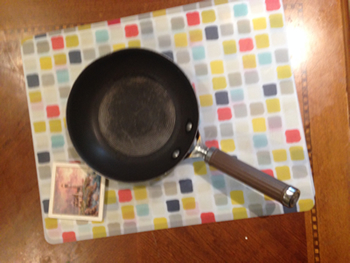 For the record I always hand-wash my pots and often use a sponge designed to clean non-stick pots. So, the wearing really is just from normal, daily use. They got quite a workout. My children all cook. One is a 'gourmet' and trolls Pinterest for interest looking recipes. We've had some great meals from her. My son, now 10, also cooks. But he's more of Mr. Fry Guy. He's probably the one who dropped the pots. Or more likely threw them into our cast iron sink causing dents, dings and some other broken dishes!
For me, I really enjoyed these pans and would repurchase them. BUT, the first set we bought was from Costco, at Christmas time and on sale. They were a ridiculously good deal. Currently, I can find an updated version (more features and a more beautiful shape etc) but a little more than we want to spend.
So it goes right?
Here we are again, looking at pots and pans.
And there are lots of choices –
Ceramic
Porcelain
Glass
Cooper
Stainless Steel
Cast Iron
Titanium
Silicone
I would love to have a full set of Titanium cookware. Why? So I can say, "Well Dahlings! I cook with TITANIUM!" and look pretty smug saying it! (LOL.) But seriously, I actually have titanium camp cook set that I love. I assume a full set would function similarly.
The thing driving my choice, as hinted above, is cost. Budgets are tyrants!
I've found some intermediate choices that fit the budget and have potential to last at least a year.
Amazon is currently running a great deal on their Amazon Basics set for $40 and free prime shipping.
They also have a set of red (squeeeee!!!) ceramic coated cookware. I have seen these (Rachel Ray brand, I believe) in Target for almost $100; though I haven't checked recently.
"So what's the hold up on purchasing?", you may ask.
Well, here is what I am thinking out loud about -
If you are a health conscious consumer, you know the push to get away from metallic and non-stick coated cookware because of leaching of various toxins into food and of course the peeled materials are often eaten. Unfortunately, it seems that almost all the metal based cookware has this as a con. They all leach some sort of metal into food. Even some kinds of ceramics leach a lead derivative into food when cooking on high heat.
The potential of toxic exposure aside, what I worry about is the cost of the pots. If I get a non-stick, I will have to replace them as soon as they begin to wear away. Which happens pretty quickly with the cheaper versions.
If I get ceramic cookware, I can see a catastrophe straight ahead as my Mr. Fry Guy and Lady Gourmet are likely to drop the cookware – very likely!! Which means that potentially, I'll have to replace this more expensive, but less toxic option sooner.
My choices are odd:
"Kid friendly poisoned pots" or "Budget Busting Healthy Options"
"Why does healthy have to cost so much?" That is my real question.
Anyway, which would you choose? Or maybe there is an option I am not considering? What advice would you give?
[This post contains affiliate links]
Comments
Greetings! Very useful advice within this post!
It is the little changes that make the most significant
changes. Thanks for sharing!
Add new comment