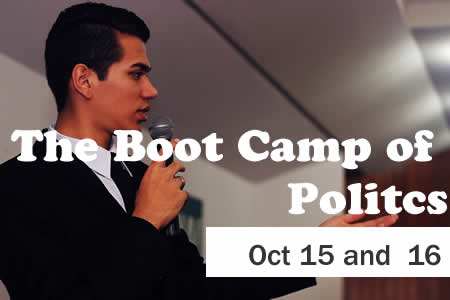 This event is open to high school aged homeschoolers.
Use promo code "James" to get $5 off.
---
As a homeschool advocate, I am excited to share a great opportunity with your homeschoolers to expand leadership skills.
The Youth Leadership School is a two-day, comprehensive, campaign activism training that teaches students all the tools and techniques needed to be an effective conservative activist. Learn the techniques used to create the successful youth effort that helped elect Ronald Reagan.
If you are committed to the causes of freedom and liberty, then you should attend the Youth Leadership School (YLS) in Sugar Land, TX on October 15th and 16th sponsored by Mike Rydin.
Here are 7 reasons why you should attend:
1. Tired of having only 15 people in your group? Learn how to triple the size of your group in a single weekend. The YLS will teach students how to effectively recruit members, activate students, and empower young conservatives.
2. Create powerful earned media. Tired of not getting media coverage for your activism? The YLS will teach you the communication techniques to pitch your story to the media. By implementing 12 effective activism techniques, the media simply cannot ignore you.
3. Change the direction of our country. Learn time tested and effective campaign techniques to win elections at the local, state, and federal level, defeat big government, and combat the liberal left.
4. Launch your career at the Youth Leadership School. Want to work on campaigns or in politics? With access to career placement services, resume consultations, and connections to hot campaigns you can get your foot into politics with the Leadership Institute. The YLS is a requirement for potential Leadership Institute interns, field representatives, and the Conservative Leadership PAC youth coordinators.
5. Join an elite group of YLS alumni. For over 30 years, conservative activists and movement leaders have built a foundation of success on their YLS training. YLS grads include sitting Senators, Congressmen, Governors, and conservative leaders like Americans for Prosperity President Tim Philips, and multiple State Representatives under the age of 25.

6. Learn from expert faculty who teach time tested and innovative campaign techniques. You will have instant access to dynamic speakers who bring the examples and lessons to life.
7. The Youth Leadership School transcends age and will equip you to be an effective advocate for liberty and freedom now and for the rest of your life.
For only 30 dollars, you receive meals, hotel accommodations, books, and valuable training. You can register here:

Sincerely,
David Blair
Director – Youth Leadership School
Leadership Institute
(703) 647-3311
DBlair@Leadershipinstitute.org
Copyright © 2016 Youth Leadership School, All rights reserved.
You were identified as the leader of a local home school group whose information was available publicly online.
Our mailing address is:
Youth Leadership School
1101 N Highland St
Arlington, Va 22201