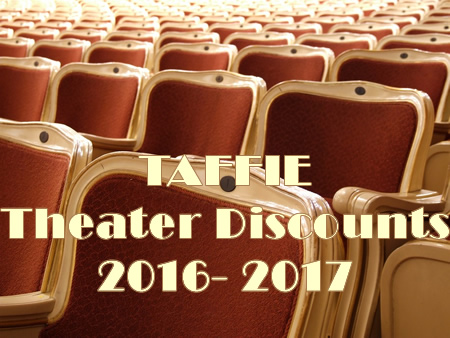 Susan Frederick of TAFFIE (Texas Advocates For Freedom In Education)Homeschool Group has released the new season information for Theater discounts. Below are the Houston Area performances ONLY. Please visit TAFFIE or contact Susan sjf@jsoft.com directly for other venues.
---
Just in time for the holiday weekend, It took awhile but the new season for TUTS is now ready for orders 2016-17.
Order early for best seat selection. Keep in mind other groups are also placing orders.
You may continue to order for BAA Austin, Houston, San Antonio and Dallas DSM.

The Falwell Tour of Mamma Mia! has been added for Austin and Houston
and is ready for orders.
Houston is in Oct 2016 and Austin is in Jan 2017.
For questions about TAFFIE Homeschool Theater Discounts contact Susan
Frederick at sjf@jsoft.com.
TAFFIE Homeschool Theater Discounts.
These are open to homeschoolers, friends and family as long as you use the correct links and passwords, you get the discount,
By using the TAFFIE Homeschool Theater Discounts you do not have to get your own group together. These are on behalf of all homeschooles.
TUTS Houston
Hobby Center
Offer code:
URL:http://www.tuts.com/perks
Promo code: homeschool
In The Heights - from the creator of Hamilton,
select dates Sept 13-25, 2016
How to Succeed in Business
select dates Oct 25-Nov 6, 2016
Into The Woods
select dates Dec 6-18, 2016
An American in Paris
select dates Feb 21-Mar 5, 2017
Dreamgirls
select dates April 4-16, 2017
Fun Home
select dates May 16-28, 2017
Aalso available.
BAA (Broadway Across America) Houston
New offer code for BAA Houston Shows
URL: http://houston.broadway.com/groups/promo/
Promo Code: TAFFIETIXS
Beautiful The Carole King Musical (May 31 - June 5, 2016)

Specials
Wicked (July 6 - August 14, 2016)
Mamma Mia! select dates Oct 6-9,2016 new
Hobby Center Houston,
Jersey Boys
November 15-20, 2016
The Book of Mormon
January 3-15, 2017
The Curious Incident of the Dog in the Night-Time
January 24-29, 2017
The King and I
March 14-19, 2017
Finding Neverland
April 25-30, 2017
Something Rotten!
June 6-11, 2017
The Lion King
June 27-July 23, 2017
The Bodyguard
August 15 - 20, 2017