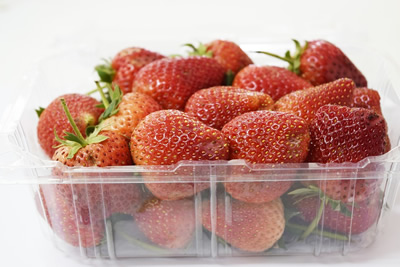 (Or how a clueless Mom enjoys making messes in the kitchen!)
A few weeks ago a friend of mine gave me 24 pounds of fresh strawberries.
Unfortunately, they were on the tart side and though we gave away some and blended some into lemonades and smoothies, by last Friday I still had at least 12 pounds left. They were taking up room in the fridge and beginning to turn. So I had to do something…
What to do?
Make preserves!! Eureka!
 Strawberry preserves could be made with ingredients I had on hand
Strawberries
Sugar
Lemon juice
Let me state that I had NO IDEA what I was doing and no one nearby to ask how to proceed. I am a decent cook and like dabbling from time to time, but I have never made any kind of jam, jelly or preserve or anything like that. Being of the science-y mindset this was all a grand experiment!  Besides, I figured at the end I would have learned something new! (Homeschooling at its finest!) At worst I would have wasted my time, gas, sugar and lemon juice. The strawberries were in their death throes.
Game on! (LOL)
I got some help from my cat. My kids hid under the sofa or something. (Whimps! LOL).  I found a recipe on what looked like a reliable website and some general instructions. I was good to go!
My recipe called for:
X pounds of strawberries
½ X pounds of sugar
X ounces of lemon juice. Fresh squeezed.
So if you had 4 pounds of strawberries, you would use 2 pounds of sugar and 4 ounces of lemon juice.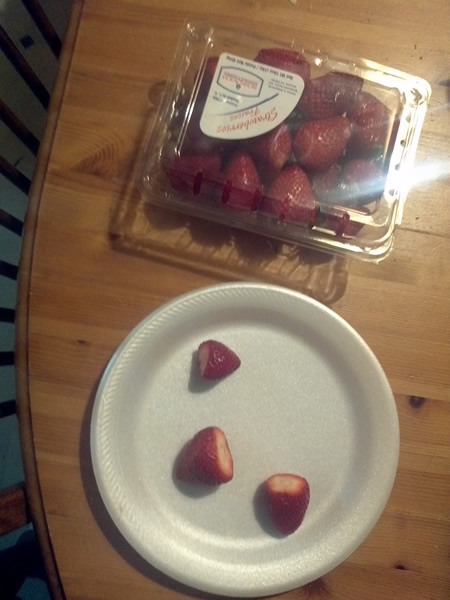 Seemed simple enough.
So I proceeded and it was all going well until I realized that the recipe didn't say if the measure of the lemon juice was by weight or volume. Hmmm… I surmised it didn't matter, but opted to weigh it out on the scale.
Unfortunately, it turns out that four large lemons, which were quite juicy and lemony, do not yield 5 ounces by weight of lemon juice.
So I punted and used lemon juice in the jar. Same difference right?! At least the standardize the tartness of the lemon juice.
Anyway, I remain clueless, but I was happy with this solution because I was NOT going to ANY store to buy lemons.
On with it then…
I used 5 pounds of strawberries which was equivalent to 6 to 8 one pound packages of the berries after throwing out the really bad berries, slicing off the stems and the really mushy parts of the remaining fruit.
The instructions said to put all the ingredients into a pot and bring to a boil. Let it continue to boil until it fell.
(Fell? Ugh?)
Seemed simple enough.
Except, they didn't specify the size of the pot relative to the total volume of the mixture. As you veteran kitchen Divas know, when things boil, they usually rise. This rose in GRAND fashion. OMG! (I did a lot of squeakin' which disturbed my cat. He was the only one willing to 'help' me. Some help he was.) I had to turn off the stove.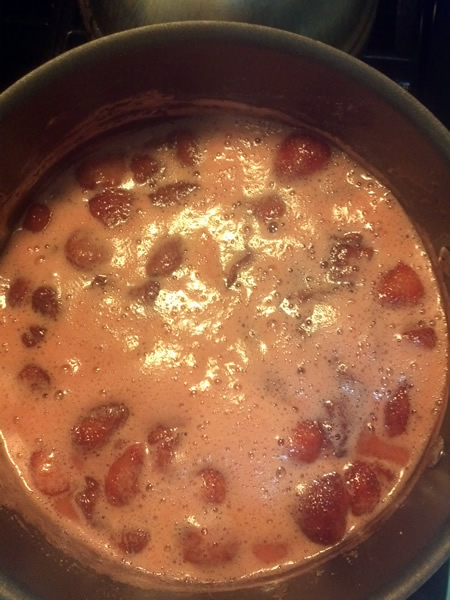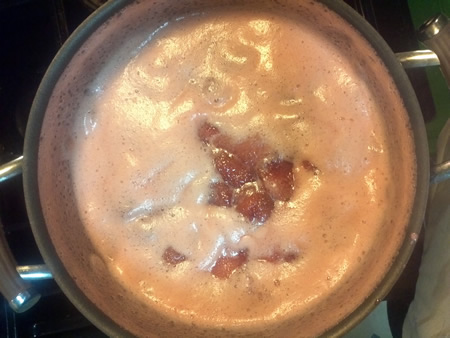 Okay. So I averted a disaster. I am sure that the fluid is flammable.  If nothing else it would have hardened like candy and been a bear to clean up.
After the liquid fell, I turn the stove back on and watched it, stirring every time it got to almost boiling over. The mixture never 'fell' on its own I waited and waited but after a while I got tired stirring.
So I turned off the stove. Permanently.
The instructions said that the preserved would be ready for canning when it slid of a metal spoon in a 'sheet'.
"A sheet?!"
I have no clue. The mixture was really runny and the liquid part seemed to be viscous – thick, but not thick like glue.  But not thin like water either.  Maybe thick like good maple syrup.
Either way, I was done and ready to be done and the stuff was going into a jar.
My neighbor, an elderly man who probably actually knows HOW to make preserves, laughed when I told him I was going to give it a go. I promised to give him some.
Yep. I promised.
But I do hereby renege on that promise.
I am not so sure this stuff that I made is share-able. I'm not sure I would give it to my kids even. BUT, I have been eating it and it is DELICIOUS!!
I started tasting it when I decided the white foamy stuff that formed during the boiling probably needed to be scrapped away.   I thought this because I know that in rice, potatoes and pasta this stuff is not 'pleasing to the eye' – though I am sure it's edible.
So here I had runny, chunky syrup stuff that tasted FANTASTIC. Did I mention I was 'tasting' it? But then I realized I made a mistake.
I was supposed to CAN the preserves. But I hadn't prepared the water bath or anything. Not even the jars to store the stuff in.
(Facepalm! Twice.)
It takes FOREVER to bring that much water to boil.
So I decided to jar the preserves into Classico Pasta jars. (Shhhhh. I know what you're thinking! Don't say it! But the jars say 'Atlas' on the side. I think they're okay.)
As an aside: Once upon a time, Classico jar mouths were threaded. You could buy standard canning jar lids to replace the original lids and reuse the jars. But at some point Classico changed to those lock lids and I was not a fan. I stopped buying the sauce. I know they went back to the threaded lids but by then, my kids had found brands that they loved and Classico was no longer welcomed.
Sorry Classico. Next time don't fix what ain't broken.
Anyway, I poured my preserves in the jars and placed them in the back of the fridge. I ended up with three 12 ounce jars and three 18 ounce jars of preserves. One of the 18 ounces jars has already been consumed.
I plan to blend the preserved with an immersion blender and add it to lemonade. So I expect to use up at least the other two 18 ounce jars this week.
As another aside – used jar lids do not reseal. I know. I tried. Since I had the water out and was boiling it, I decided to test it. NOPE. Fail.  (Of course I knew it would. But being of the science-y mindset I had to see for myself.)
So here is what I learned:
You really should write out your instructions all on one sheet, study it and prepare your tools in advance of starting.
Your pot size to your mixture volume ratio needs to be at least 3:1 to avoid boil over. My pot is an 8 quart (7.6liter) capacity and I had 5 pounds of berries in it. This was too much for the pot. Next time I think 2 or at most 3 pounds of berries is sufficient.
Use a metal spoon.  Since testing for 'doneness' is done with a metal spoon, start out with a metal spoon and save the clean up!
 Do not stir your mixture after the initial stirring when you put it in the pot. Actually, I am not sure if this is true, but I think it should be true since the mixture is supposed to rise and fall with boiling. Stirring causes it to fall.
Skim off the foamy stuff. And throw it away. LOL. Save yourself the calories!
Prepare your canning pot BEFORE you start your preserves. You need to have at least 1 to 2 inches of water above the height of your tallest jar. That volume of water takes some time to boil.
 Making preserves is somewhat intensive. If you have an itty bitty kitchen like mine, ban everyone from it while you are working. Including the cat. Less stress and more counter space!
 Find friends who actually knows how to do this stuff. It's a lot of work and kinda boring sitting around cleaning the berries and then standing around waiting for the 'boil and fall' to happen. Having a friend to chit chat with is preferred over say, a disinterested cat or whiny kids.