I love Dollar Tree. Over the course of my homeschooling years, I have found many neat, cheap and useful supplies to use in our homeschool.
This week I found Westcott brand 12 inch ruler. This ruler has 'Microban' antimicrobial protection, non-skid padding and is both metric/inch measurements. It's very sturdy and comes in a few colours. The image of the ruler below shows the black (dark gray) color range. I also got one in pink. Usually I buy the Teaching Tree brand (Dollar Tree's brand) wooden rulers that come in the two pack. Those are ok, but inevitable the plastic strip with the measurements in them come off. I glue them back on IF I can find them. Sometimes I think the kids just break them off for fun and then hide the evidence of their misdoings! LOL. But I think this Westcott ruler will hold up a lot better than any of the others I have found at Dollar Tree or The 99Cents Only Stores. The Westcott Ruler retails on Amazon for about $3. So for one dollar this is an excellent buy!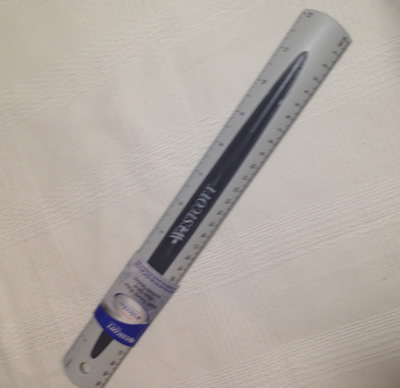 I also found these really useful test tubes from the Dollar Tree's Teaching Tree brand. We have a lot of impromptu and improvised experiments in my kitchen all the time. I usually use a bunch of glass measuring cups, but I think my younger set will feel more 'scientific' with these test tubes. The test tubes are a sturdy plastic, have a screw top lid and have graduation marks in 2.5ml increments starting at 5ml to 50ml. The stand is a little flimsy. But not too bad. It's not easily knocked over.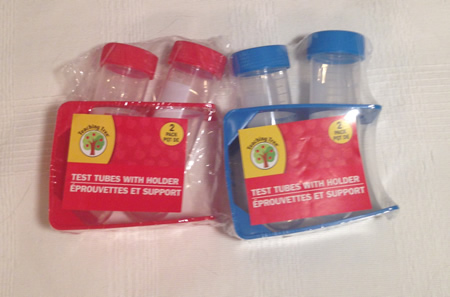 I couldn't find an exact match for this product on Amazon. The best one was the Learning Resources Test tubes with Dropper. Unfortunately, it had a ridiculous markup. I did spy that set on Christian Book Distributors for about $6 a mark down from nearly $8. So the Dollar Tree Test tubes win especially since they come in at least three colors - blue, red and green. You could use the colors to color code your experiment's ingredients or designate a color per child.
I'll be assigning blue to my oldest son and red to his brother. That way I don't have to hear the inevitable, "MOOOOMMMMM!!! He took my test tube!!!!"
LOL. Siblings.